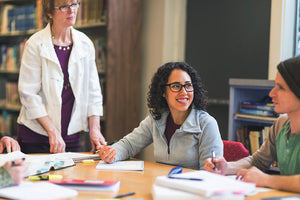 Language and Cultural Education
Welcome to Berlitz Hong Kong
Your premier Hong Kong learning center for language education. With over 140 years of experience, we are dedicated to providing immersive language learning experiences that are tailored to your needs. Our highly trained instructors offer a wide range of language courses that cater to all proficiency levels.
Come join our community and explore the beauty of language with us.
Admissions are now open for the October class
Elevate Your Workplace English: Where social skills meet professional success. Your path to fluent workplace English starts here!
See how we can help you achieve your language goals
Popular Languages in Hong Kong
Find your courses
Language Courses for Adults
Enhance your language abilities and reach your professional goals with us. Designed for working professionals, flexible class options, and effective teaching methods ensure success. Join the thousands who have chosen Berlitz for their language journey.
Find all adult courses
Language Courses for Companies
Empower your employees to communicate effectively on a global scale with Berlitz corporate language training. Improve company performance, increase cultural understanding and boost employee confidence. Partner with Berlitz for a successful language training program.
Find all business services
Language Courses Kids & Teens
Berlitz provides a fun and effective way for children to learn a new language. With interactive classes, experienced trainers, and personalized lessons, children will build language skills and confidence. Give your child a head start in life with Berlitz language training.
Find all kids & teens courses
Some organizations who learn languages with us:
At the start, my kids were nervous about attending class, but that soon changed. Their teachers encouraged them to learn useful expressions, learn English confidently and learn about other cultures. My kids are very engaged in their classes, as learning materials have interesting topics and contain fun games. This knowledge will ultimately help them ease into the international world.
Berlitz is not just a language school. You may make global connections and learn from native speakers, but it doesn't conform to the unidirectional mode of learning known as "school". Its approach to teaching captures the multifaceted nature of a "language"; which is what draws me back, to learn 3 languages over 15 years. Berlitz has given me more than just linguistic proficiency - it's given me a passion to explore international cultures, which will last a lifetime.
The one-on-one Berlitz course was perfectly suited for my needs. I will be signing up for it again soon
...From the administration to the two teachers I worked with, I found great professionalism and quality. The two courses I had improved my knowledge from basic to a very good level...
Couldn't wish for a better or more convenient way to get English lessons - I want to thank all the instructors I had during my daily lessons! I'm very grateful as they were able to give me a lot of confidence...