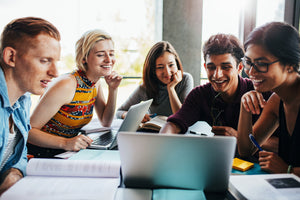 Language Classes for Adults
Getting started with Berlitz
Language Classes for Adults in Hong Kong - Learn with Berlitz Hong Kong
Learn a New Language or Enhance Your Language Skills
At Berlitz Hong Kong, we offer a wide range of language classes specifically designed for adults in Hong Kong. Whether you want to learn a new language from scratch or improve your existing language skills, our expert instructors are here to guide you through an immersive and personalized language learning experience.
Berlitz offers language lessons for adults in more than 50 languages, including English, Spanish, German, French, Japanese, Korean, Chinese Mandarin, Cantonese, and more. Our language courses are available in various formats, including online and face-to-face options. No matter what your learning goals are, we can customize a course for you.
The Berlitz Method: Learn Naturally and Speak Confidently
When the Berlitz Method was introduced more than 140 years ago, it revolutionized the way languages were taught. Millions of people worldwide have since learned to speak new languages through this conversational teaching style. Based on listening and speaking, it is the most natural way to learn a language. Today, the Berlitz Method sets the standard by which language learning is measured.
As a language student, there's nothing more rewarding than holding your first conversation in a foreign language. At Berlitz Hong Kong, our unique approach to teaching languages means you'll be engaged from your very first lesson and speaking your new language much sooner than you think!
Why Choose Berlitz Hong Kong?
Experienced Instructors: Our language instructors are highly experienced and trained to deliver engaging and effective lessons. They are native speakers and will provide you with the necessary tools and techniques to succeed in your language learning journey.

Comprehensive Language Programs: We offer comprehensive language programs tailored to meet the specific needs of adult learners. Whether you're looking to learn a language for business purposes, travel, or personal enrichment, our courses cover all aspects of language learning, including speaking, listening, reading, and writing.

Personalized Approach: Our language classes for adults are designed with your individual goals and learning style in mind. We conduct an initial assessment to understand your current proficiency level and customize the curriculum to address your specific needs. This personalized approach ensures that you make rapid progress and achieve your language goals.

Immersive Language Experience: We believe in immersive language learning. Our classes provide an immersive environment where you can practice your language skills with fellow learners and engage in real-life conversations. This approach accelerates your language acquisition and builds confidence in your ability to communicate effectively.
Enroll Today
Ready to embark on your language learning journey? Enroll in our language classes for adults today, either online or in-person, and unlock a world of opportunities. Whether you're looking to enhance your career prospects, communicate with locals while traveling, or simply expand your horizons, Berlitz Hong Kong is your trusted language learning partner.
Contact us now to learn more or sign up for a trial class. Our friendly team is here to assist you every step of the way.
Most Popular Language Classes