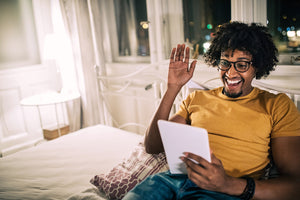 LEARNING A NEW LANGUAGE ONLINE HAS NEVER BEEN EASIER WITH BERLITZ
Personalized Online Language Lessons: The Key to Effective Learning
If you're seeking a convenient and effective way to learn a new language or refine your language skills from the comfort of your home, Berlitz online language lessons are the perfect solution. With Berlitz online lessons, you can learn any language with our experienced and qualified instructors who are native speakers and adept at providing personalized lessons that cater to your specific language needs.
Our online language courses utilize cutting-edge technology to deliver interactive and engaging language instruction. Our multimedia platform offers an array of videos, audio recordings, and interactive exercises that help reinforce language concepts and enhance your learning experience.
One of the significant benefits of Berlitz online lessons is the flexibility to learn at your own pace and at a convenient time for you. Our online language lessons are available 24/7, allowing you to access them from any device, including desktops, laptops, tablets, or smartphones, from anywhere in the world.
Berlitz online language lessons are customized to your unique requirements, whether you're a beginner or an advanced learner. Our instructors provide individualized feedback and guidance throughout the course, ensuring that you stay on track and make steady progress towards achieving fluency.
Compared to other language institutions, Berlitz online language lessons offer unparalleled quality of instruction, flexibility, and convenience. Our proven success record makes Berlitz online language lessons the perfect choice for anyone looking to learn a new language or improve their language skills. Our courses are available for adults, kids and teens, corporates groups. Join us today and embark on your language learning journey!
Find the languages offered by Berlitz below and start learning today!
EXPERIENCED AND HIGHLY TRAINED
Berlitz Instructors
Every Berlitz instructor undergoes a comprehensive training program that prepares them to deliver high-quality language instruction using the Berlitz Method®. The training program includes both theoretical and practical components, covering a range of topics such as language acquisition, teaching techniques, classroom management, and cultural competency.
We ensure that our instructors are equipped with the skills and knowledge to deliver effective language instruction and provide a positive and engaging learning experience for their students.
Live online private instruction
Our private online courses offer personalized language instruction tailored to your specific needs. Learn from certified native-speaking instructors and make steady progress towards fluency.
Live online group instruction
Our group online courses provide a dynamic and interactive language learning environment. Learn from certified native-speaking instructors and practice your skills with other learners from around the world.
Self-paced study
Cyberteachers offers flexible and personalized language instruction for individuals and businesses. Learn from certified native-speaking instructors and access a wide range of multimedia materials to achieve your language goals.
How to get started?
It is very simple, contact us! Our program consultant will assist you in designing personalized course content tailored to your unique needs, helping you achieve your learning objectives.
Step 1 Contact Us
Contact us for a consultation and learn more! Call at 21572200 or WhatsApp 92298274
Step 2 Visit Our Language Center in Causeway Bay
Take the time to visit us for an effective, lasting, and enjoyable learning experience.
Address: 2/F, Lee Garden Six, Causeway Bay, Hong Kong
Step 3 Free Consultation
A Berlitz advisor will analyze your proficiency level, needs and personal goals to recommend a suitable potential language training program for you.

Step 4 Enrollment & Registration
After verifying your course selection, you can then complete your enrollment process and schedule the first lesson.

Step 5 First Lesson
From the moment of your first lesson begins, you will hear and begin speaking your new language and make learning fast and easy.