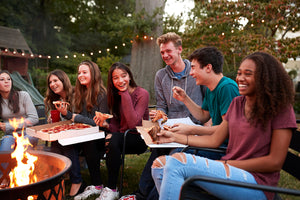 In-person English courses
Admissions are now open for the October class
Elevate Your Workplace English: Where social skills meet professional success. Your path to fluent workplace English starts here!
Learn English in Person: Improve English speaking and communication skills
Learn English In Person with Berlitz
Are you looking to improve your English skills for daily conversation or the workplace? Berlitz's in-person English course is designed to help you achieve your language goals and communicate fluently in English.
Our experienced and certified English instructors will guide you through the Berlitz Method, a proven teaching method that emphasizes speaking and listening skills. We use Berlitz's published English textbooks, which are tailored to adult learners, and our online learning platform provides you with access to additional resources and exercises to help you reinforce what you have learned in class.
Our in-person English course also includes business topics, such as negotiation, delivering presentations, business writing, and socialization in business occasions. These topics are designed to help you improve your English skills for the workplace and advance your career.
In addition to our Berlitz Method and textbooks, we also use third-party materials from National Geographic Learning and TED talks for students who want to focus on global issues. These materials are designed to help you develop a deeper understanding of English and its use around the world.
We also offer different kinds of English courses for kids and teens, including phonics courses for kids around 3-6 years old, creative writing and reading courses for primary and secondary learners, and English speaking training courses. Textbooks from National Geographic Learning are used for our kids and teens English lessons, providing a fun and engaging way for children to learn English with the Berlitz Method.
At Berlitz, we believe that learning English should be an enjoyable and rewarding experience. Our in-person English course is designed to help you improve your English skills in a supportive and friendly environment, allowing you to communicate confidently in English.
Enroll now in Berlitz's in-person English course and start learning English today.
Get An English Assessment First
Before starting the English course, you can learn your current knowledge by booking an online or in-person placement test with our Berlitz instructors.
Berlitz English Learning Textbooks
Berlitz's English textbooks use the proven Berlitz Method to improve learners' language skills. The comprehensive resource covers a range of topics and includes exercises, activities, and real-world examples to practice speaking, listening, reading, and writing skills. Audio resources are also provided for listening and pronunciation practice.
How does Berlitz can help you speak English confidently with 1-1 in-person English courses?
Berlitz's 1-1 in-person English courses can help people speak English confidently by providing personalized attention and tailored instruction to each individual learner. With our one-on-one English courses, learners have the opportunity to work closely with experienced English instructors who can identify their strengths, weaknesses, and learning styles. This allows the instructor to design a customized learning plan that addresses the learner's specific needs and goals, whether it be improving pronunciation, expanding vocabulary, or mastering grammar rules.
Moreover, the immersive teaching approach used by Berlitz in their 1-1 in-person English course helps learners build confidence and proficiency in speaking English . The English courses emphasize spoken communication skills, and learners get ample opportunities to practice their conversation skills with their instructor in a supportive and interactive learning environment.
In addition, the in-person English courses provide learners with the opportunity to immerse themselves in English language and culture, giving them a deeper understanding of the language and how it is used in real-life situations. This can further enhance their confidence and fluency in speaking English .
EXPERIENCED AND HIGHLY TRAINED
English Instructors
Every Berlitz instructor undergoes a comprehensive training program that prepares them to deliver high-quality language instruction using the Berlitz Method®. The training program includes both theoretical and practical components, covering a range of topics such as language acquisition, teaching techniques, classroom management, and cultural competency.
We ensure that our instructors are equipped with the skills and knowledge to deliver effective language instruction and provide a positive and engaging learning experience for their students.
How to get started?
It is very simple, contact us! Our program consultant will assist you in designing personalized course content tailored to your unique needs, helping you achieve your learning objectives.
Step 1 Contact Us
Contact us for a consultation and learn more! Call at 21572200 or WhatsApp 92298274
Step 2 Visit Our Language Center in Causeway Bay
Take the time to visit us for an effective, lasting, and enjoyable learning experience.
Address: 2/F, Lee Garden Six, Causeway Bay, Hong Kong
Step 3 Free Consultation
A Berlitz advisor will analyze your proficiency level, needs and personal goals to recommend a suitable potential language training program for you.

Step 4 Enrollment & Registration
After verifying your course selection, you can then complete your enrollment process and schedule the first lesson.

Step 5 First Lesson
From the moment of your first lesson begins, you will hear and begin speaking your new language and make learning fast and easy.