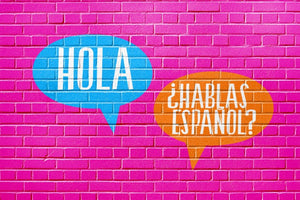 Adults Spanish classes
Master the language of passion and broaden your horizons with our adult Spanish classes. Experienced instructors, interactive learning, and cultural immersion await you. ¡Vamos a aprender español juntos!
Children Spanish classes
Ignite your child's love for languages with our engaging Spanish classes for kids. Through interactive activities and games, they'll develop language skills while embracing the vibrancy of Spanish culture. ¡Vamos a aprender español juntos, niños!
Spanish for corporate training
Equip your team with essential language skills for global success through our dynamic Spanish corporate training. ¡Vamos a aprender español empresarial juntos!
Best immersive Spanish courses in Hong Kong
¡Bienvenidos a Berlitz Hong Kong!
Are you ready to embark on a Spanish language-learning adventure that will open doors to new opportunities and connections? Look no further than Berlitz Hong Kong, your premier destination for Spanish language education. With our proven teaching methods, experienced instructors, and immersive learning environment, you'll be speaking Spanish with confidence in no time.
At Berlitz Hong Kong, we understand that learning a language is not just about memorizing vocabulary and grammar rules. It's about embracing the culture, developing real-world communication skills, and building lasting connections. That's why our Spanish courses are designed to provide you with a holistic language-learning experience that goes beyond the classroom.
Our curriculum focuses on practical language usage, ensuring that you can effectively communicate in various social and professional contexts. From greetings and everyday conversations to business interactions and cultural nuances, our courses cover a wide range of topics to equip you with the skills you need.
One of the key strengths of Berlitz is our immersive teaching approach. We believe that the best way to learn a language is to be fully immersed in it. That's why our classes are conducted primarily in Spanish, creating an environment where you naturally absorb the language through active participation and meaningful interactions.
Our experienced and passionate instructors are native Spanish speakers who are dedicated to your success. They provide personalized guidance, tailored feedback, and create a supportive learning environment where you feel comfortable taking risks and making progress at your own pace.
Whether you're a beginner starting from scratch or an advanced learner looking to refine your language skills, we have the right course for you. Choose from our group classes, private lessons, or corporate training programs to fit your schedule and learning preferences.
Don't just take our word for it - experience the Berlitz difference yourself by booking a trial lesson with us. Our trial lessons provide a firsthand glimpse into our teaching methods, allowing you to interact with our instructors, get a feel for the learning environment, and assess whether Berlitz Hong Kong is the right fit for you.
¡Aprende español con Berlitz Hong Kong!
How to get started?
It is very simple, contact us! Our program consultant will assist you in designing personalized course content tailored to your unique needs, helping you achieve your learning objectives.
Step 1 Contact Us
Contact us for a consultation and learn more! Call at 21572200 or WhatsApp 92298274
Step 2 Visit Our Language Center in Causeway Bay
Take the time to visit us for an effective, lasting, and enjoyable learning experience.
Address: 2/F, Lee Garden Six, Causeway Bay, Hong Kong
Step 3 Free Consultation
A Berlitz advisor will analyze your proficiency level, needs and personal goals to recommend a suitable potential language training program for you.

Step 4 Enrollment & Registration
After verifying your course selection, you can then complete your enrollment process and schedule the first lesson.

Step 5 First Lesson
From the moment of your first lesson begins, you will hear and begin speaking your new language and make learning fast and easy.