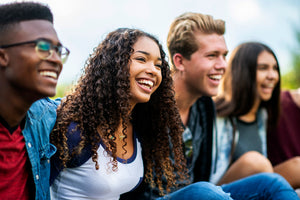 In-person
Language Courses
Learn a new language fast with Berlitz Hong Kong's in person courses
Berlitz in-person courses are the perfect solution for anyone looking to learn a new language in a classroom environment with other learners. Our in-person courses are instructed by certified language instructors who are native speakers, and are skilled in providing personalized lessons tailored to your specific language needs.
With Berlitz in-person courses, you'll learn through a combination of interactive and engaging classroom activities, including conversation practice, role-playing, and cultural immersion. Our instructors use the latest language teaching techniques to ensure you make steady progress towards fluency.
One of the key benefits of Berlitz in-person courses is that we offer both one on one lessons and small group lessons. You get to learn in a dynamic and interactive classroom environment with other learners, which can enhance your learning experience. Our small class sizes ensure that you receive personalized attention and feedback from your instructor, helping you to master language concepts more quickly and efficiently.
Another key advantage of Berlitz in-person courses is the opportunity for cultural immersion. Our courses expose you to the culture of the language you are learning, providing an authentic experience that goes beyond just language instruction. This can be especially beneficial for learners who plan to travel or work in a country where the language is spoken.
Compared to other language institutes, Berlitz in-person courses offer unparalleled quality of instruction, cultural immersion, and personalized attention. With our proven track record of success, Berlitz in-person courses are the perfect choice for anyone looking to learn a new language or improve their language skills. Join us today and start your journey towards fluency!
Available in English, French, German, Spanish, Japanese, Korean, Cantonese, and Mandarin.
EXPERIENCED & PROFESSIONAL
Language Instructors
Our language instructors receive extensive training that covers a wide range of topics including language acquisition, teaching techniques, classroom management, and cultural competency. The training program consists of both theoretical and practical components, and is designed to prepare instructors to deliver high-quality language instruction using the Berlitz Method®. Our instructors are equipped with the skills and knowledge necessary to provide a positive and engaging learning experience for their students.
Berlitz Student Portal
It is designed to complement and enhance the in-person or online language instruction. Students can continue learning and practicing their language skills outside of the classroom, at their own pace and on their own schedule. It includes:
Interactive language games and activities
Audio and video resources for listening and pronunciation practice
Digital versions of Berlitz textbooks and workbooks
Progress tracking and performance analytics
In-person Language Classes
How to get started?
It is very simple, contact us! Our program consultant will assist you in designing personalized course content tailored to your unique needs, helping you achieve your learning objectives.
Step 1 Contact Us
Contact us for a consultation and learn more! Call at 21572200 or WhatsApp 92298274
Step 2 Visit Our Language Center in Causeway Bay
Take the time to visit us for an effective, lasting, and enjoyable learning experience.
Address: 2/F, Lee Garden Six, Causeway Bay, Hong Kong
Step 3 Free Consultation
A Berlitz advisor will analyze your proficiency level, needs and personal goals to recommend a suitable potential language training program for you.

Step 4 Enrollment & Registration
After verifying your course selection, you can then complete your enrollment process and schedule the first lesson.

Step 5 First Lesson
From the moment of your first lesson begins, you will hear and begin speaking your new language and make learning fast and easy.